The Siren is an enemy in Bookworm Adventures. She is the second enemy in Book 1, Chapter 3. She wears a ragged white robe, having a messy hair, and wears a white blindfold. She attacks using her claws or her voice.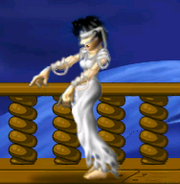 Health: 5
Lore:
[Att]- Claws
[Stn/Att]- Stunning Song
Description
Edit
"Cursed by the God Demeter for failing to intervene when her daughter was kidnapped, sirens are well known for their irresistibly alluring singing. Many sailors have leapt to their deaths in pursuit of the siren's song."